Hope's Reflection
By Ron Sanders, Campus Minister with Cru at Stanford University, Associate Faculty in Christian Ethics at Fuller Theological Seminary
---

"Artists know well about paradox…New possibilities as well as conflicting truths emerge in the interaction."
---
---
---
We have a guest today—Hope Curran—I have known Hope for several years. She babysat our children when they were young. I have had the opportunity to watch her grow as a person and as an artist. She has spent the last three years in Paris working toward a master's in Fine Art. She is writing about "liminal space" and ambiguous loss as a person "without a home" for the last three years. I hope you enjoy her reflection and poetry.
---
---
---

Liminality, Hopeful for Home
By Hope Curran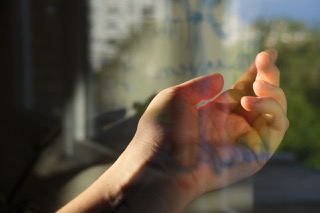 This is a tale of two cities, two lives, two languages, two kingdoms, and one heart living in the constant space of homesickness and in-between. I've lived most of my life with longing. My name Hope, chosen by my parents, inherently comes with daily reminders that things are not yet. I have lived in Paris for over three years working part time with Agapé Art and studying as a Student at La Sorbonne and have recently rediscovered the word liminality while doing research in fine arts on the theme of Home. It's used originally by anthropologist Arnold van Gennep to identify the rites of passage in young people during tribal rituals. The word liminal has been adapted to refer to changes that occur during disorientation, struggle and difficulty. The tenacity of the human spirit bonds relationships during times of crisis, war and disaster. Communities and individuals that are normally seen as "different" are welded together in a specific and timely way. In liminal spaces, humanity turns towards camaraderie and unity when there's a common enemy or shared goal. The Coronavirus has become a determining factor for the world to set aside ideology, religion, conflict and difference in joining together towards healing and wholeness. We all stand on common ground.
I have centered my life and art around community and connections, but I am surprised how this time of solitude does not feel unfamiliar nor uncomfortable to me. When I moved overseas three years ago, I suddenly became an exile in a new country. My apartment became a space of seeking refuge from the dangers of the unknown. I wanted to create a cocoon to come back to and bake all the time to share my mother's recipes and bring comfort to others experiencing a new strain of homesickness. I even gained a reputation as the "artiste de biscuit" or "cookie artist" amongst my peers. Over three years I cultivated meaningful relationships over the phone and across distance. I watched my nephews grow up over video calls and used social media as a way of shaping my experience visually as I processed the brokenness of what was my dream of Paris. I worked hard to find friends as a foreigner and watched most of those friends come and go in waves. Paris as an expat became a revolving door and I was caught in its reckless momentum. I am not unfamiliar to isolation and feelings of loneliness even amidst the crowds and a crazy schedule of running around a big city. Moving abroad indefinitely has come with ambiguous loss. At a certain point I found myself in a constant state of mourning. Last year after Notre Dame burned down and a large chunk of close friends moved back "home" I wanted to leave, but didn't know where to go. I am no longer fully American nor will I ever be fully French. Hanging somewhere in between I decided to stick out a season of walking through what felt like complete darkness and unknown I'd later be able to identify as a "dark night of the soul".
Life as a foreigner is full of indefinite unknowns, learning to adapt to change, daily decisions to stay or leave and finding new ways to create connections and creatively communicate. To think in French for the first time was a wonderful disorientation. When I began to learn French a new world formed in my mind. Translating my thoughts, desires, beliefs, needs into another language meant simplifying them into words and vocabulary I possessed. The disorientation of not understanding everything I was hearing in a new language forced me to constantly improvise with the knowledge I had and learn rapidly. Successfully ordering my first croissant at the boulangerie and getting what I asked for felt like a major victory. It's an act of resourcefulness to try to communicate to someone who speaks a language fluently with a limited vocabulary. It is both frustrating and poetic. Learning a language means learning to listen and speak in faith.
There's a difference between translation and interpretation… We translate and interpret our visual, political, emotional, cultural surroundings all the time. A lot can get lost in translation, much can be gained. Interpretation allows space for meaning to be conveyed. There are some words that are simply not translatable and express and idea or feeling more beautifully. Eventually, after a decade of grammar classes, full immersion and now in writing a Fine Arts Masters thesis in French, I feel much more comfortable and at ease within the world of French Language, however I will always be on the edge and learning daily. I will never fully be an insider of the Francophone tribe with my " adorable accent américain," but I will always be changed and possess a key to a world of vocabulary that my fellow English speakers may not have unless they too dive into the disorienting adventure of language learning.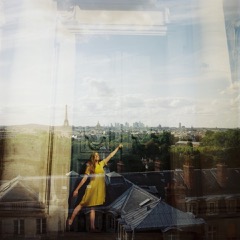 America and France have been the two territories and countries I've found myself between. The french word "détournement" successfully describes the moment when someone is on their way somewhere but something or someone re-directs their path. It's literally translated to mean "hijacking" or diversion. Sometimes we think we are on the right path but Jesus comes and "détourne"s us, turns us around and takes us on an unimaginable path that requires faith, hope and being covered by the holy dust of his sandals as we follow closely behind. My passport holds a decade worth of stamps and visas proving my strange and beautiful existence between Paris and San Francisco. The 13-hour transatlantic flight is a recurring "point de rèpere" or reference point for me to re-evaluate my identity, calling and vision. The French translation of se rèperer is linked to the word used for when a compass settles into a stable position and shows which direction you're going.
Wilderness survival guides tell us the moment you realize that you're lost to stay where you are, conserve your energy, if you're with others to stay together, look for water and shelter and make noise so rescuers can find you. The acronym STOP is commonly used in survival training: Sit, Think, Observe, Prepare. When we get off the original path and recognize we are lost, we must learn to STOP and call out to be rescued. Without taking moments of rest and pause in chaotic and disorienting times, we often find ourselves more lost than when we began. Living cross culturally has felt a lot like wilderness survival. The adjustment and disorientation of figuring out new ways of living causes a constant state of liminality. In pausing in that liminality, crisis or disorientation there's creation. It can cause new relationships to be formed that would've never developed without standing on the border between two worlds…
The conversion experience feels like that, it's also what happens when we fall in love. We find a new universe within us we never knew. Tales like The Chronicles of Narnia, Peter Pan and Alice in Wonderland all point to the alternate realities and worlds that exist within us, that eternity is stamped on our hearts. Another word I love in French is "dépaysé", used to describe the feeling when you travel and arrive in a new place that is foreign to you and translates to being "de-countrified". It's an acceptance of being foreign, different, vulnerable and in need of finding your bearings. Most major cities have guides, tourist centers and safe places for the dépayés to ask questions, find direction and take a free map. In the kingdom of God, I see artists, poets of the soul, as tour guides to help new pilgrims learn the ways and discover God's country here on earth without being taken advantage of by the enemy that sets up tourist-traps and pick-pockets our treasure.
There's a space we are called to occupy during this time. It's the threshold of home we find the path of the Kingdom of heaven and the brokenness of humanity meet. We are called to stand outside the front door of life, with a welcome mat rolled out to greet other travelers into the shelter of eternity.
What does it mean to be liminal, on the edge of transformation and becoming? Not yet here nor there, but to be in the air flying over countries not knowing where you are, waking up in the middle of a flight and seeing the aurora borealis outside of your window, knowing you are the farthest north you've ever been, slipping through time zones, suspended in space. We are not of this world, looking for a better country indeed, wilderness survival guides learning to create makeshift homes until our Rescuer comes to find us. To be liminal is to really, exist.
—–
Perhaps you've read this and realize you're a bit lost and have gotten slightly off track…I invite you to STOP: Sit down, think about your vision, observe your surroundings and prepare something worthy of sharing and crying out. I propose a collaboration and a new kind of homework for all. In collaboration with the director of Transform , I have developed online homework for her high school studio art class and opened it up to the public. This project is an extension of my research on HOME and seems fitting to invite as many people into it as possible during quarantine while at home. Please reach out and keep the conversation going.
---
---
---
---
---
---
---
---