Healing in Ambiguous Loss
---
My understanding of healing changed at some point on this journey into the world of ambiguous loss.
For many years I prayed that God would completely heal Zach physically—that God would restore his speech, his short term memory, his vision (Zach sees nothing on the right of center), the strength on the right side of his body, etc..
I still do this, but not as often.
Whenever I do it with Zach, he remains relatively silent with head bowed. However, at the end of this prayer I always pivot and reference a Bible passage, 2 Corinthians 12:8-12, that Zach quoted during his baptismal testimony two weeks before his injury. I usually pray something like,
"God, we thank You that even if You choose not to do this and Zach has to live with these "weaknesses," that Your grace is sufficient for him and for us, for your power is perfected in our weakness. Therefore we can gladly boast about our weaknesses that the power of Christ may dwell in us. Therefore we are well content with weakness, insult, distresses, persecution, and difficulty for Christ's sake, for when we are weak, then we are strong."
As soon as I pivot and start praying this passage, Zach comes alive and starts nodding and saying, "Um! Um hum! AAAAmen!" in hearty agreement.
I realize now that somewhere on this journey my understanding of healing changed. I no longer think of healing as simply stepping out of (or leaving) pain, illness, weakness, difficulties, and suffering. After all, you can be physically alive, healthy, and strong, but emotionally, spiritually, and relationally dead, sick, or weak. Conversely, you can have physical deficits and yet be spiritually, emotionally, and relationally vibrant. Zach has shown us that.
He showed it to us again this Saturday when for the first time in three months we got to visit him (at least sit across the table from him on his back porch).
We still couldn't touch him and hug him, but it felt so good to be with him. By the way, Zach earned the new nickname, "It-2"—named after "It" from the Munsters; You will understand why if you look at the pictures and try to figure out which one is which. Also, Zach has recently given me a new nickname "daddyoskizzler" and two new greetings, "What's up buttercup?" and "What's cookin' good lookin'?"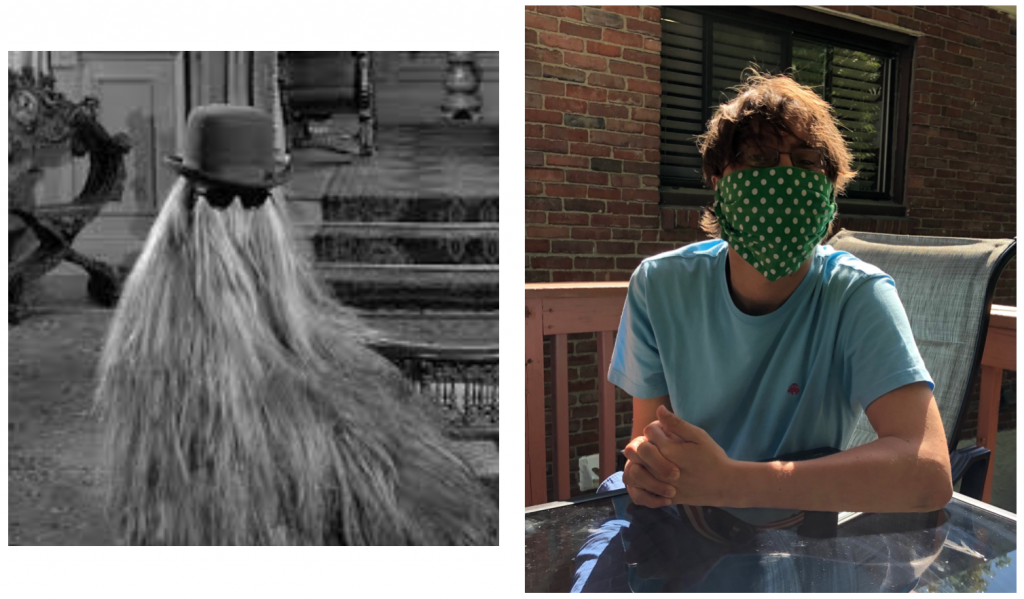 It felt so good to be with our son again.
Through Zach, God has taught me that healing is more about entering into the peace, joy, love, and life of God's presence than it is about restoring physical health. Healing is not simply about God removing suffering, but transforming it.
In some branches of Christianity, healing is considered a sacrament. Those who administer it seek to take the sick into the love, light, and life of Christ. This weekend I realized that while I have been trying to administer that sacrament to Zach for years, he was actually administering it to me.
---