Art and Grief
---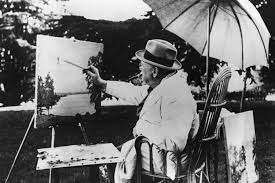 I'll begin with a confession. Since the quarantine, we adopted the daily rhythm of watching an episode of the The Crown.
Another confession.
I suck at grieving.
Or at least I used to. I'm getting better.
No one ever taught me how to grieve. If anything I was taught not to grieve.
"Big boys don't cry!" "Focus on the positive!" "Show no visible sign of weakness!"
These messages defined manhood for me growing up.
I only ever saw one exception to these rules. At my grandpa's funeral, my dad pulled out a handkerchief to blow his nose. My brother nudged me and whispered, "I think he is crying."
But then I went to college and became a Christian. I quickly discovered that the only place I thought to be a safe place to mourn—a funeral—was actually the place you celebrate life and the resurrection.
Not surprisingly, when our son Zach suffered a brain injury I was pretty much lost when it came to grieving.
When Tammy discovered the research of Pauline Boss I began to learn about the importance of grieving ambiguous losses. Nevertheless, up until this past week I have continued to scoff at Boss' suggestion that art can actually help people grieve ambiguous loss.
Which brings me back to The Crown.
Season 1 episode 9 is a masterpiece of motion picture story-telling. In 1958 the British parliament commissions Graham Sutherland to paint a portrait of Winston Churchill. While working on the portrait, the two form a friendship and talk openly about their artwork. Churchill himself was an avid painter.
Sutherland takes notice of Churchill's numerous paintings of a pond in his backyard. Together they probe the significance of his returning to this place.
Eventually, Churchill opens up about his greatest loss in life—the loss of his daughter. He then admits that they built the pond the year of his daughter's death.
I'm no artist, but until now I have always thought about my occasional attempts at art as productions. This story woke me up to the fact that my own feeble expressions at art have consistently been attempts to connect more deeply with my heart (in general) and my losses (in particular).
After watching that episode, I walked around my study and took notice of my own art. I opened my sketch pads and thought about other drawings and paintings stored in our basement or hanging on my mother's walls. I realized that nearly all of them took me to places where I could connect to my heart and often my greatest losses.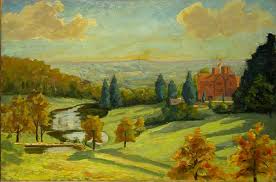 I thought about the two iMovies I made. One combined our son Zach's favorite music with pictures of him before and after his injury (I could not complete that sentence without crying). The other iMovie I made for my dad's funeral.
I thought about the strange fact that on the day that Boston issued the shelter in place order, I sat down at our piano—for the first time in 12 years.
And then there is our book Hit Hard. I'm no writer either, but the art of story-telling helped me grieve the ambiguous losses related to Zach. Like listening to my son's music, watching a great movie, drawing a picture of a grandparent, or painting a landscape of the country I left behind when we came to Boston, writing stories creates space for me to feel, to remember, and to grieve.