Beyond "I'm Fine"
By Bonnie Sanders, Visual Storyteller and Justice Associate with Cru
---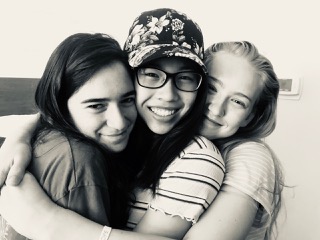 When people ask how our family is doing, I say we are doing ok. But beyond the "we are fine" there is a lot of sadness floating around. The other night when we were playing cards and listening to my daughter's music, she started playing a new song by Alec Benjamin called "Six Feet Apart." Tears starts rolling down my cheeks. Sadness that is lingering close to the surface. The lyrics captured me and my heart burst into tears. Who wrote this? When? My daughter shared how she listens to the song and cries herself to sleep. Sadness is rolling around the "I'm fine." I couldn't recover, so I went and got the box of tissues and we cried.
My tears come especially fast for the young people in my house. I miss their friends in our home, the wrestling, the snuggling, the dancing, and everything in between. And the hard part is, I don't see an end anytime soon.
I find it challenging to "social distance." Even when I see friends and we stand 6 feet apart, I feel like I can't fully be with them in the way I'm used to. It's not like I was a huge "hugger" before, but I was relaxed—and now I feel like I'm on high alert with people I love. I don't like that feeling.
Even with people I don't know, I find it hard to interact by physically distancing myself instead of opening myself to someone's presence. It feels like when I'm physically distant, emotional distancing isn't far behind for me. Maybe for me "physical distancing" really does feel like "social distancing."
Well, this night of cards and that new song helped me get in touch with some deep sadness. My daughter and I decided to work together on the dance that she was choreographing to this song. I took images and video I've shot over the last couple of years and put it together so that it could play behind her as she danced. We wanted to capture her loss and how different connection looked for her and her friends just a couple of months ago.
Sadness is floating around for a good reason, so I'm glad we are able to sit in it and capture it through images and movement. I don't know when the world will be different, but right now we are still 6 feet apart.
---
Photography by Bonnie Sanders